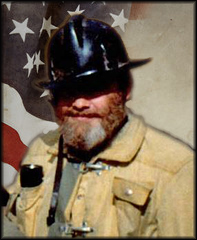 In Memory of Former KVFD Chief Eric Lilleland:
Kneeland community has lost a true hero.
Former KVFD Chief and longtime Kneeland resident Eric Lilleland passed away 08/14/2018 at Saint Joseph hospital of natural causes with his wife Maureen at his side. Eric was one of the 1982 "originals" of KVFD and served as KVFD Fire Chief 1987-1994. Most of you may not have had the privilege to know Eric but you are the recipient of his deeds. Eric was one of the originals who saw a community need and along with others formed the Kneeland Volunteer Fire Department.
No one was more dedicated to community first responder protection and the Kneeland Volunteer Fire department. He served during a time when small volunteer fire departments fighting structure fires without proper breathing equipment was the norms and his personal protective clothing was hand me down discard from a neighboring departments. Eric acquired Kneeland's first 1970's rescue that was donated by US Forest service. Being a well-known and successful local custom home contractor the rescue was outfitted with contractor type hand tools and ladders, a few medical supplies and 200 gallons of water. The rescue truck was affectionately nicknamed "Little Red" by the volunteers. Eric's one vision was to see the completion of a fire house because the elements and winter weather was taking its' toll on the engines.
. It was a honor to have served with Eric as we had many wild and crazy KVFD response moments which I will always remember. He will truly be missed and always remembered. A dear friend and human being who gave so much and many times risk it all to help others. He was 75 years young. He is survived by his wife Maureen who we share our thoughts and gratitude for her everlasting support and Eric's driving force to bring the Kneeland Volunteer Fire Department to a reality.